Traditional Chinese Acupuncture Causing Acute Hemoperitoneum from Direct Liver Injury
Keywords:
case report, emergency radiology, acupuncture, liver injury
Abstract
Traditional Chinese medicine is a popular form of complementary and/or alternative medicine in Southeast Asia, often incorporating acupuncture. Acupuncture involves the insertion of thin needles into varied anatomical points on the body for the relief of a range of symptoms, such as musculoskeletal aches and pains. We present the first reported case of percutaneous liver injury secondary to acupuncture. We aim to familiarize readers with this rare and as-yet unreported case of intra-abdominal injury related to acupuncture, which is commonly practiced in many countries in Eastern and Southeast Asia.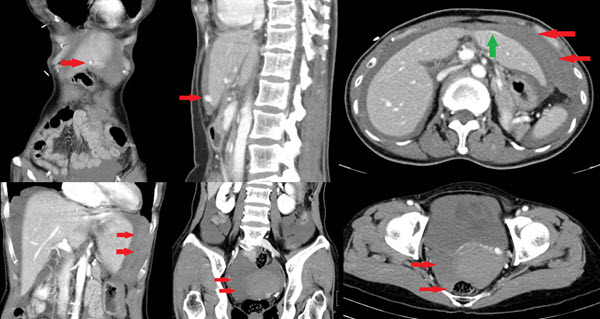 Section
Emergency Radiology
License
Copyright (c) 2023 Journal of Radiology Case Reports
This work is licensed under a Creative Commons Attribution-NonCommercial-NoDerivatives 4.0 International License.
The publisher holds the copyright to the published articles and contents. However, the articles in this journal are open-access articles distributed under the terms of the Creative Commons Attribution-NonCommercial-NoDerivs 4.0 License, which permits reproduction and distribution, provided the original work is properly cited. The publisher and author have the right to use the text, images and other multimedia contents from the submitted work for further usage in affiliated programs. Commercial use and derivative works are not permitted, unless explicitly allowed by the publisher.