Coil embolization of a fistula from the right inferior phrenic artery to the right pulmonary artery with involvement of further arteries: A rare case report
Keywords:
Arterio-arterial fistula, Transcatheter arterial embolization, Malformation, Interventional radiology
Abstract
A 51-year-old female patient presenting dyspnea for more than a year with no previous lung infections or surgery. Initially, a diagnostic computed tomography was made, showing a rare arterio-arterial malformation between the right inferior phrenic and right pulmonary artery leading into a vascular bundle in the middle lung lobe. Due to the patients ? dyspnea and massive extent of malformation, the indication for transcatheter arterial embolization was made. The first transcatheter arterial embolization procedure involved the inferior phrenic and a selective branch of the internal thoracic artery. Interventional angiography as well as computed tomography revealed further extend of the malformation showing a connection of right lateral thoracic, hepatic, and inferior epigastric artery to the fistula. After one month, a second transcatheter arterial embolization of these arteries as well as a second approach of the proximal internal thoracic artery was performed. In the follow-up the patient described a substantial improvement of her dyspnea and showed no signs of infections.
A phrenic artery to pulmonary artery fistula is an extremely rare case occurring congenital or acquired. Patients may be asymptomatic or present, among others, dyspnea, hemoptysis, pulmonary infections and congestive heart failure. Symptomatic patients require treatment using transcatheter arterial embolization or surgical resection. The patient had dyspnea and a substantial extent of malformation with possibly complicated clinical course. The recommended less invasive treatment using transcatheter arterial embolization was successfully performed. In conclusion, our patient represented a rare congenital case of systemic and pulmonary artery communication, which we were able to treat sufficiently with coil embolization.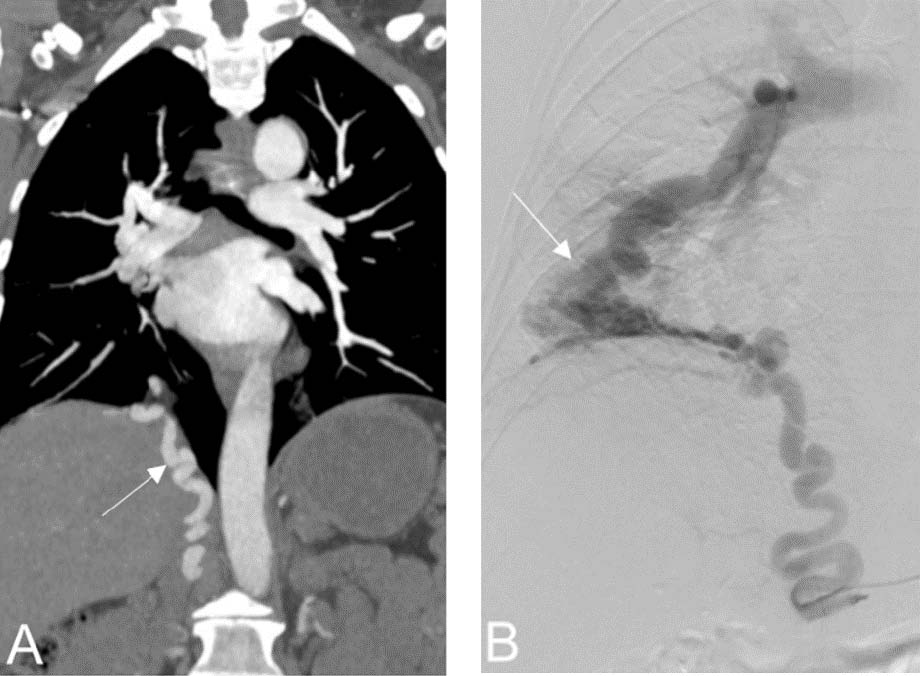 Downloads
Section
Interventional Radiology
License
Copyright (c) 2023 Journal of Radiology Case Reports
This work is licensed under a Creative Commons Attribution-NonCommercial-NoDerivatives 4.0 International License.
The publisher holds the copyright to the published articles and contents. However, the articles in this journal are open-access articles distributed under the terms of the Creative Commons Attribution-NonCommercial-NoDerivs 4.0 License, which permits reproduction and distribution, provided the original work is properly cited. The publisher and author have the right to use the text, images and other multimedia contents from the submitted work for further usage in affiliated programs. Commercial use and derivative works are not permitted, unless explicitly allowed by the publisher.