Endovascular embolization with EVOH for the treatment of a Rasmussen aneurysm
Keywords:
Rasmussen, pulmonary artery aneurysm, pulmonary artery pseudoaneurysm, endovascular, embolization, Tuberculosis
Abstract
First-line treatment of pulmonary artery aneurysms/pseudoaneurysms (PAA/PAPA) is percutaneous or endovascular embolization. The present case of a Rasmussen aneurysm, a PAPA caused by Tuberculosis (TB), was successfully treated with ethylene-vinyl alcohol (EVOH), a radiopaque liquid embolic agent with favorable characteristics. A 35-year-old man presented as a new patient with hemoptysis, and CT imaging revealed multiple cavitary lesions and a 2.1 cm aneurysm in the upper right lobe. Endovascular treatment was delivered and a complete lack of filling of the lesion was noted on post-treatment angiography. The patient's history includes risk factors and past TB infection. Despite the suspicious imaging, diagnostic tests were negative for active TB in this patient. He was then found to have MRSA bacteremia and a mediastinal lymph node positive for M. avium. The etiology of this aneurysm is suspicious for the superinfection of a chronic tuberculous cavity with M. avium, MRSA, or both.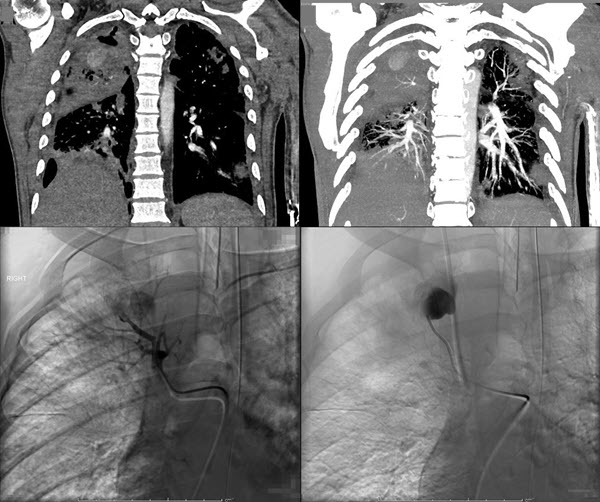 Section
Interventional Radiology
License
Copyright (c) 2023 Journal of Radiology Case Reports
This work is licensed under a Creative Commons Attribution-NonCommercial-NoDerivatives 4.0 International License.
The publisher holds the copyright to the published articles and contents. However, the articles in this journal are open-access articles distributed under the terms of the Creative Commons Attribution-NonCommercial-NoDerivs 4.0 License, which permits reproduction and distribution, provided the original work is properly cited. The publisher and author have the right to use the text, images and other multimedia contents from the submitted work for further usage in affiliated programs. Commercial use and derivative works are not permitted, unless explicitly allowed by the publisher.