Complication of barbotage, acute calcific bursitis treated successfully
Keywords:
ultrasonography-guided percutaneous treatment, barbotage, calcific bursitis, calcific tendinitis, calcific tendinopathy, rotator cuff
Abstract
One of the most common causes of chronic shoulder pain that significantly impairs patients' quality of life is rotator cuff calcific tendinitis. The supportive approach of analgesics, anti-inflammatory medications, and physiotherapy is preferred to treat mild symptoms. However, severe intractable symptoms necessitate alternative treatment, and ultrasonography-guided percutaneous barbotage is regarded as an effective treatment technique due to its minimal invasiveness, low cost, and rapid significant pain relief. Post-barbotage complications are reported as acute calcific bursitis along with infection, bleeding, and tendon rupture. In our case, a 41-year-old female presented with a substantial amount of pain shortly after barbotage, which was diagnosed as acute calcific bursitis, a complication of the procedure. Subacromial-subdeltoid steroid injection was used successfully to treat this condition.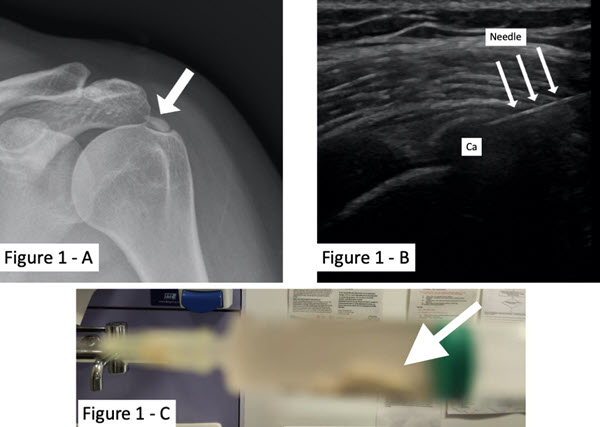 Section
Musculoskeletal Radiology
License
Copyright (c) 2023 Journal of Radiology Case Reports
This work is licensed under a Creative Commons Attribution-NonCommercial-NoDerivatives 4.0 International License.
The publisher holds the copyright to the published articles and contents. However, the articles in this journal are open-access articles distributed under the terms of the Creative Commons Attribution-NonCommercial-NoDerivs 4.0 License, which permits reproduction and distribution, provided the original work is properly cited. The publisher and author have the right to use the text, images and other multimedia contents from the submitted work for further usage in affiliated programs. Commercial use and derivative works are not permitted, unless explicitly allowed by the publisher.