Primary CNS lymphoma in Immunocompetent patients: Appearances on Conventional and Advanced Imaging with Review of literature
Keywords:
Primary CNS lymphoma, immunocompetent, magnetic resonance imaging, computed tomography, advanced imaging techniques
Abstract
Primary central nervous system lymphoma (PCNSL) constitutes about 3% of all primary brain tumors and nearly 1 to 3% of all Non Hodgkin Lymphomas. In the recent years the incidence of primary CNS lymphoma is increasing in immunocompetent patients. As PCNSL are chemosensitive as well as radiosensitive, its early and accurate diagnosis is imperative for optimal management. Contrast enhanced Magnetic Resonance Imaging (MRI) is the recommended imaging modality for PCNSL; however, contrast enhanced Computed Tomography (CE-CT) is done in cases where MRI is contraindicated. Advanced imaging techniques like DWI (diffusion weighted imaging), MRS (MR Spectroscopy), MR perfusion, DTI (Diffusion tensor imaging) are important in diagnosis and help in its differentiation from other tumors.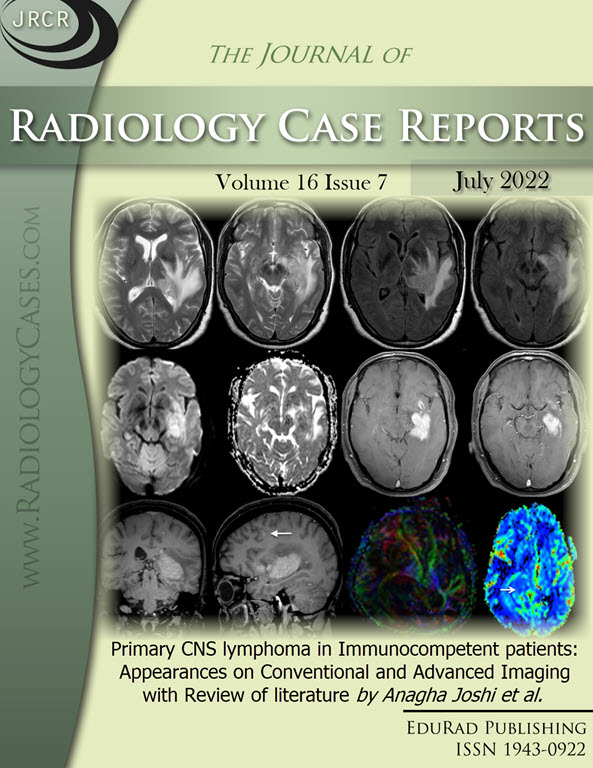 Downloads
License
The publisher holds the copyright to the published articles and contents. However, the articles in this journal are open-access articles distributed under the terms of the Creative Commons Attribution-NonCommercial-NoDerivs 4.0 License, which permits reproduction and distribution, provided the original work is properly cited. The publisher and author have the right to use the text, images and other multimedia contents from the submitted work for further usage in affiliated programs. Commercial use and derivative works are not permitted, unless explicitly allowed by the publisher.