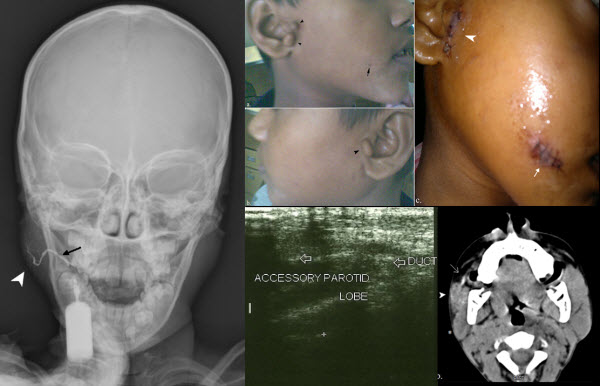 Accessory parotid gland with ectopic fistulous duct - Diagnosis by ultrasonography, digital fistulography, digital sialography and CT fistulography. A case report and review of current literature.
Chaitanya Dattatray Kulkarni, Shireesh Kumar Mittal, Vikas Katiyar, Ojaswi Pathak, Shashank Sood
Abstract
Accessory parotid glands are a common clinical occurrence and usually drain into the main Stenson's duct by small ductules and thereby, into the buccal cavity. Presence of an accessory parotid gland with an ectopic fistulous duct is a rare occurrence. We present the imaging findings in a case of right accessory parotid gland with ectopic fistulous duct associated with bilateral pre-aural appendages. Diagnostic workup was done by ultrasonography, sono-fistulography, contrast digital fistulography, contrast digital sialography and computed tomography fistulography. Imaging showed a right accessory parotid gland lying anterior to and separate from the main parotid gland draining via an ectopic fistulous duct opening over the right cheek. The child was managed surgically by internalisation of the duct to open into the buccal mucosa and excision of pre-aural appendages.
Full Text:
PDF
Fulltext article
Interactive fulltext